Around a month ago I decided to stop using my regular Laneige toner and emulsion. I suspected there was oil in both products that broke me out regularly. I've been having pretty regular break outs on my face since March of this year. The time corresponded with me stop using my Enprani balancing toner and emulsion. Because the balancing toner and emulsion doesn't contain any oil (in fact they contain some alcohol) my face was in good shape. I didn't understand that connection and I bought new products that did contain oils. Laneige's white plus toner and emulsion are both great products, but not with oily, sensitive skin.
The Face Shop Mild Toner and Lotion
I had to choose between purchasing the Enprani AC-Pore set or The Face Shop's Clean Face set. The prices for the two sets are completely different. Enprani is on the pricier side so the toner and emulsion combo would set me back $85, while The Face Shop's Clean face duo would set me back $34. Plus, with the latter I can just buy at a store in K-Town. I decided to try and save money and try the Face Shop's products first.
The Toner and Lotion (emulsion) are both $16 each not including tax at the store in K-Town. There are also stores in Chinatown and in Flushing. These stores are all in New York. You can buy these products online for a comparable price, but most of them ship straight from Korea so it takes around two weeks.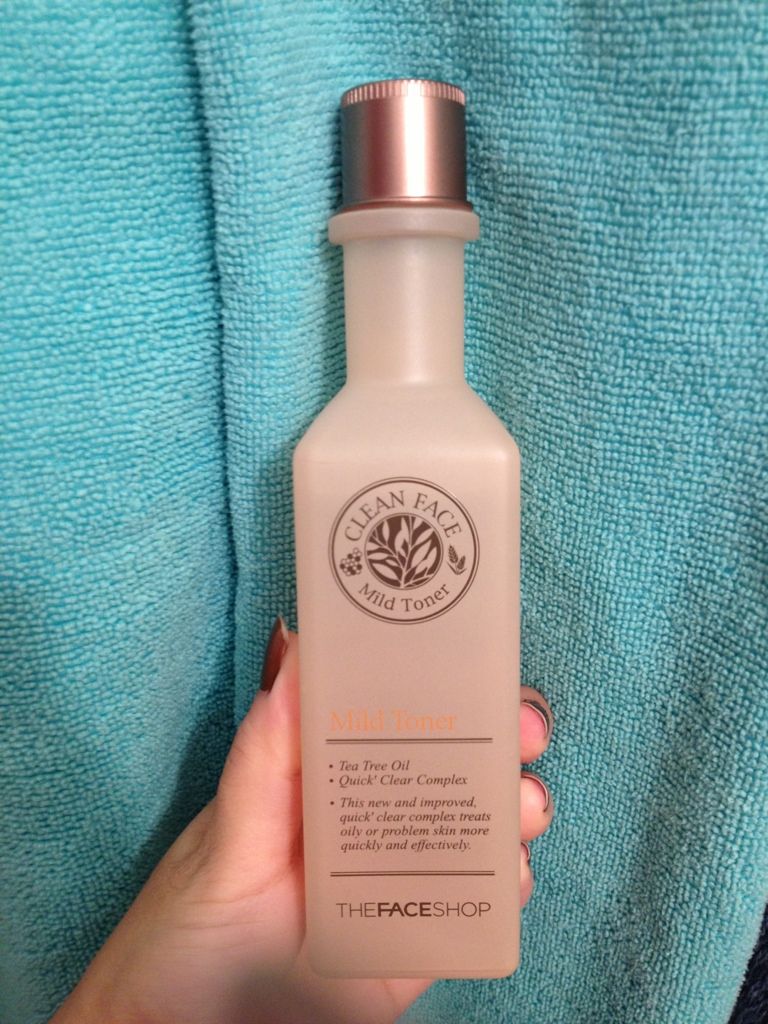 Mild Toner
I am really glad that I tried it first. It really is amazing and stopping break outs from happening. I've used this for around a month now and I can see a definite difference in my skin. New break outs have slowed down to almost a stop and my acne scars are finally getting a chance to heal. Now and then I do sometimes get a tiny little white head, but it is barely noticeable. Also during that time of the month when I usually start getting annoying pimples/whiteheads; they no longer appear as badly. Sometimes I see a tiny red dot, but that is the extent of it.
Mild Lotion
As for the size of my pores, when I initially started using this I could see my pores getting larger. Compared to the Laneige toner, this toner was not as effective in shrinking pores. However, after I switched to using the Clean Face foaming cleanser; my pores have shrank back to its original size.
Top View
If there was a negative aspect for the products, its that the packaging is not very exciting or pretty. Both the toner and lotion are housed in very plain beige colored bottles. Like most toners, this one has the traditional rounded hole that you shake out the product from. The lotion is also made with the same format. It has a bigger hole to shake out the product, but its inconvenient as I am used to the pumps that Laneige and Enprani products have. Price wise this is less than half of Laneige and almost a third of Enprani, so I shouldn't be complaining.
Toner
Lotion
The toner is thin and watery. Some toners have that serum like thickness that is suppose to be moisturizing, but since this one is for oily skins the consistency is like water. The lotion is also on the thinner side. I feel like you have to use more to cover your entire face. This means you use up the entire bottle more quickly.
The Good:
Affordable!
Easy access (can buy in stores)
Reduces whiteheads/ Reduces pimples
Prevents blemishes, whiteheads, and other imperfections
The Bad:
Have to use more than other brands I've tried
Ratings: 5/5
Conclusion: I really recommend it. Of course not everyone has the same skin, so the effects can be different. However, this really did improve my skin loads and its cheap enough for you to try.